EFL Movie Study Guide for: Cool Runnings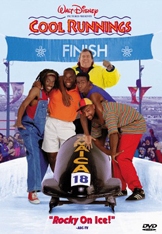 Story: Celebrate the Olympic spirit with this Disney version of the true story of the first bobsled team from the Caribbean (1988 winter Olympics in Calgary, Canada). Everyone laughs when a disgraced coach takes on the challenge of bringing a winter sport to sunny Jamaica. But see who gets the last laugh when team spirit and a healthy self-confidence turn disaster and disagreement into Olympic pride. "Cool runnings" is a Jamaican phrase which, according to the movie, means "Peace be the journey." (1993; Disney; sports/comedy/history)
Note: This will help you understand the tension: Blitzer, who becomes the Jamaicans' coach, cheated to win the Olympics when he was an athlete 20 years earlier. He was so ashamed that he left his country—the US—and moved to Jamaica to get as far away as possible from winter sports. Now, Blitzer's old teammates are US coaches, and his former coach is now a judge in the Calgary Olympics.
A few terms (vocabulary):
bookie (bookmaker): someone who collects bets (money that people want to risk on the result of a race, competition, etc), pays the winners, and makes money in the process.
bobsled: a small vehicle with two long thin metal blades instead of wheels, that is used for racing down a special ice track
zigzag (noun, verb or adj): to move forward (and esp down a hill) in sharp angles. (In the movie, the coach says "You'll be ziggin' and zaggin'.")
roller coaster: a track with very steep slopes and curves, which people ride on in small carriages at fairs and amusement parks
cold weather endurance: the ability to continue working in a very cold place in spite of difficulty or pain, over a long period of time
intrepid: willing to do dangerous things or go to dangerous places - often used humorously
line dancing: a type of dancing--people dance in lines, all following the same series of steps
snickering (AmE): to laugh quietly and in a way that is not nice at something which is not supposed to be funny (BrE: snigger)
sarcastic (sarcasm): saying things that are the opposite of what you mean, in order to make an unkind joke or to show that you are annoyed
80 miles per hour=133 kilometers per hour (speed of a bobsled)
Sentences & expressions from the movie:
"He put weights in the front to make it faster, and they took away our gold medal." That is, he cheated by changing the sled against the rules; the officials found out and disqualified his team and their first-place time.
"He ran the 100-meter in ten flat; I run it in nine-nine." That is, exactly ten seconds, versus 9.9 seconds.
"If I don't have what it takes, we'll forget the whole thing." That is, if I don't have the qualities that are needed for success, I will stop asking for your help and won't enter the race.
"Oh, goody." ("goody" is a word used by children to express pleasure or excitement; it's used here sarcastically to show that sb is not happy with a comment or situation)
"Do you dig where I'm coming from?" (slang) That is, do you understand my position, perspective and/or requirements?
"They're going to turn some heads." If something turns people's heads, they are surprised by it.
"Rise and shine!" Often used humorously to tell someone to wake up and get out of bed.
"How about if I whip your butt." & "It's butt-whipping time!" (slang) to "whip/kick sb's butt" means to punish or defeat them severely
"You choked." Literally, to choke is to be unable to breathe because something is blocking your throat; figuratively (as here) it means to fail at doing something, especially a sport, because there is a lot of pressure
A favorite dialog (a bit abbreviated):
--You want to know why I cheated? That's a fair question. I had made winning my whole life, and when you do that you HAVE to keep winning, no matter what.
--But you had two gold medals… you had it all.
--A gold medal is a wonderful thing. But if you're not enough without it, you'll never be enough with it.
Discussion:
1. Many things are important in sports. List the things you saw illustrated in the movie. For example, The athletes had to ask the man to coach them many times, even though he kept saying "no." That illustrates persistence.
2. With a partner, choose the three most important things from the list we just created.
3. Did this team win any Olympic medals? Is that important? Why or why not?
4. Do you agree with what the coach said (see above) about gold medals? Why or why not?
5. Look back at the list from question one. Which of these things are also important to learning a language? What other things would you add to this list?
6. In relation to learning English, what do you (personally) need the most from this list? Why?
7. In addition to this list, what are some other way that learning a sport is similar to learning a language?
Discussion (sample answers)
1. persistence, hard work, equipment & tools, a coach, support from friends & family (and fans), money, commitment, teamwork & communication with teammates, strength & speed, opportunities to train or practice, focus
5. Almost all of them. Strength and speed are not important but these are similar to a good memory
7. Both are about developing a human (not building a machine, writing a book, etc.). We can be encouraged by all the people who were just like us, but who achieved greatness in sports or in second language ability. Given the right equipment and training, we can also develop this skill. We are not trying to do something impossible. And while competition can show how good we are, the most important thing about competition is that it makes all the competitors better, not just the winners.