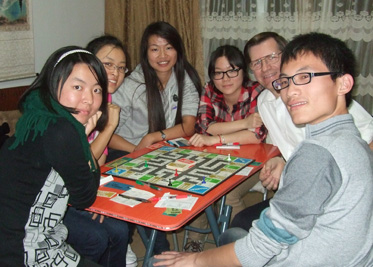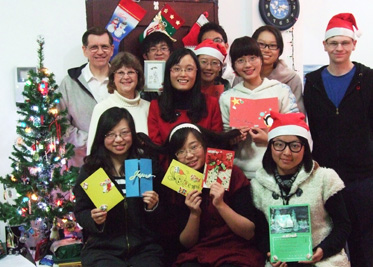 Although our Zhangzhou apartment wasn't as big as the one in Kunming, we still put it to good use, sharing Christmas traditions with students and friends. (Left) Advent opened with Board Game Night, when 10 students played Careers and Life with us. (Right and Below Left) We also enjoyed a creative evening making greeting cards. (Below Right) Christmas isn't Christmas without lots of music, so one Sunday evening we sang together and enjoyed some of Vivian's holiday treats.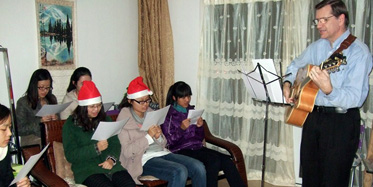 Here are some more photos of "greeting card night" and the night when students helped us to decorate our apartment and small Christmas tree. (With our relocation, the budget was rather tight this year; this was the smallest tree we had ever had, but we made up for it the next year!) Below, you can see our Advent wreath; each Sunday of Advent we lit a candle and read about one part of the historic Christmas story. You can also see some candy canes. Friends in America sent a big box of these traditional treats with our son (who visited during his Christmas break at the university), and we passed them out to grateful students, along with a leaflet explaining the meaning behind the peppermint candy treat.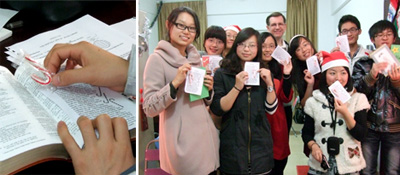 In early December, Vivian got a second-hand toaster oven "for Christmas", but she put it to use all month making holiday goodies for our students. In the first photo, she is dishing out cake with strawberries on the chocolate icing. In the center photo, Vivian brought fresh strawberries to our showing of "Home Alone" on campus, which happened to fall on the day that Andrew arrived. Though he was jet lagged, he still helped Michael to pre-teach one of the important dialogs in the film.
(To learn more about Christmas, see these Christmas pages on our website: the traditional Christmas story, who is Santa (圣诞老人)?, candy canes, Christmas Perspectives (poem), and the pre-Christmas Advent season. Also look for Christmas wallpaper here. You'll also find movie study guides on this website for some great holiday films: A Snoopy/Charlie Brown Christmas, Last Holiday, White Christmas, The Grinch, Christmas Carol, It's a Wonderful Life)