Michael's first job in Kunming was teaching at
Yunnan Normal University Business School (YNUBS)(2005-2006). We moved from Xi'an to get away from the pollution, and we have certainly enjoyed Kunming's blue skies!
Vivian taught English in Xi'an, but YNUBS originally said they did not need her to teach (though they later changed their mind after she was committed to language classes). During our first year in KM, she kept busy studying Chinese, and she also started helping the Jian Hua Foundation with administrative duties. She has continued (and expanded) her volunteer role since, putting her 28 years of experience to good use (Vivian retired in 2000 after serving as an administrative assistant back in the USA).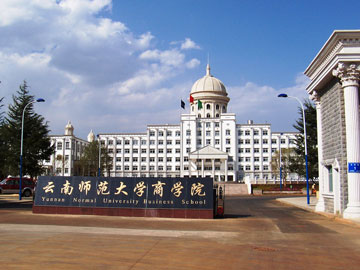 Michael first visited the campus of Yunnan Normal University Business School in April 2005. During this short visit, a contract was drawn up hiring Michael to teach starting in August 2005. The contract promised us on-campus housing, ready by the second month of the term.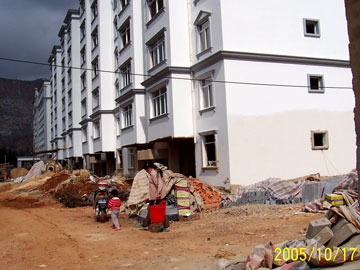 The photo above shows that the promised building was not complete by mid-October (in fact, it wasn't ready until the end of December). So, we stayed in a one-room dorm for two months (photo to the right) before moving to our own off-campus apartment.
If you have ever stayed with your family in a motel for more than a few days, you know that with each day the level of stress and feeling of confinement grows. Perhaps most vacations don't last more than a week because we can't stand to live in tight quarters like these for more than a few days!
In this photo, Andrew's bed hovers over a small desk in the right-hand corner. We didn't have a stove, but we had brought a small fridge and microwave oven from Xi'an. We tried washing clothes by hand for a while, but we eventually bought a "toy" washer to make things a bit easier. There was a shower/toilet between this room and the door to the hall. All the rest of our stuff, including dozens of boxes of Michael's books and teaching tools, were stored on the first floor of the same building.
We gave up on the promised housing in November and found an apartment in Kunming. By Christmas we had been in our new place almost two months. We had enjoyed inviting students over to play games, watch movies, and help us celebrate the holidays. We could have done none of this if we were still in the campus "hotel" so we were very glad that we moved when we did.

Michael taught over 125 freshmen. This is how they started the term--with 10 days of military training. Mainly, it seems to consist of endless marching, shouting and drilling. But all Chinese university students go through this, and I'm sure it helps build discipline in these young people. Many upperclassmen have told me that the two weeks are very difficult, but they profited from the experience. This photo also shows the beautiful athletic field at YNUBS. At the left there are also basketball courts, which are VERY well-used! The unusual shape of the bleachers is the result of limitations imposed by a train track that runs just behind the low fence behind it.