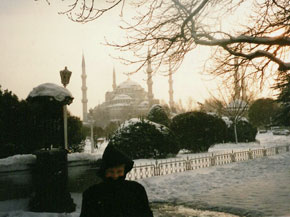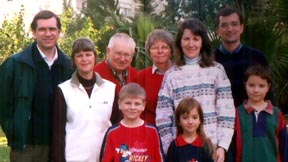 (Above) The main purpose of this 2001 visit was to see Michael's sister and family, who had been working in Turkey for many years. Michael's parents also flew to join us (and footed the bill!). (Left) Andrew freezes in front of a famous church on our unexpected visit to Istanbul (see below).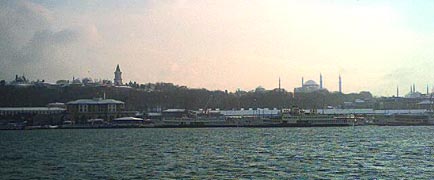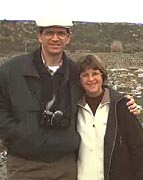 (Left) After flying to visit friends in Israel, we had a one-day snow-bound layover in Istanbul, the only city that straddles two continents. This was our view from a ferry on the Bosporus. We also visited the Aya Sophia (see above), a Byzantine church that was earth's largest enclosed space for 1000 years!
(Right) Michael & Vivian stand in Perga's Coliseum, once likely used for great chariot races.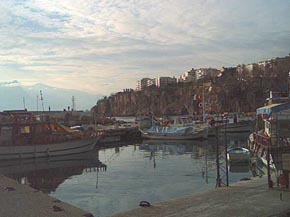 St. Paul landed here at Antalya's quaint harbor (called Attalia in Acts 14:25). We hope his companions were as gracious as Michael's sister and her family, who showed us a wonderful time!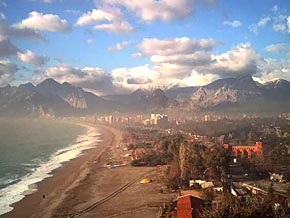 Antalya's beautiful Mediterranean beaches and snow-capped mountains attract a lot of European tourists annually, and it is easy to see why! The food is also wonderful—so what are YOU waiting for?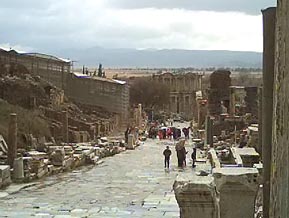 Ephesus must have been an awesome city when Paul wrote one of our favorite Bible verses to the Ephesians. It says that Earth's great mystery is "that now the manifold wisdom of God" is being made known by the church to supernatural powers, "according to the eternal purpose which He accomplished in Christ Jesus our Lord, in whom we have boldness and access with confidence through faith in Him." (Eph 3:10-12 NKJV)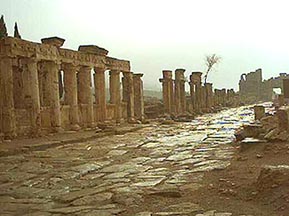 Like Ephesus, the ruins of Hieropolis (here), Perga and other sites gave testimony to Turkey's great past. The region claims a 7000-year history under a vastly different host of rulers. The obvious absence of Christianity, once centered here (in part), reminds us that Christianity is not a race or culture that is effortlessly passed down to each generation. Christianity springs from forgiveness via a faith-based relationship with Jesus Christ.