We visited England and Scotland on our way back to China from the USA in June of 2004
We didn't get to see Loch Ness (it was too far away), but we enjoyed a wonderful day on the banks of Loch Lomond. (By the way, Loch means "lake.")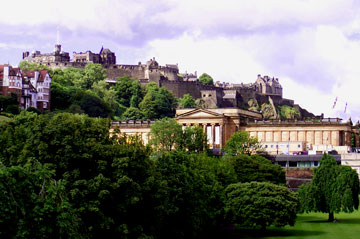 Historic Edinburgh castle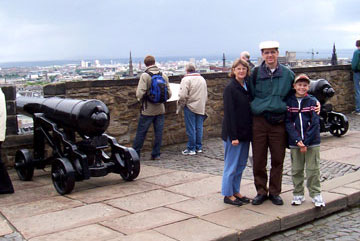 Three travelers enjoy a balmy view atop the castle..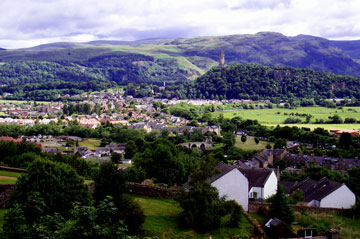 The beautiful Scottish hills, as seen from Sterling. The tower in the background is a memorial to Wallace (i.e., Braveheart).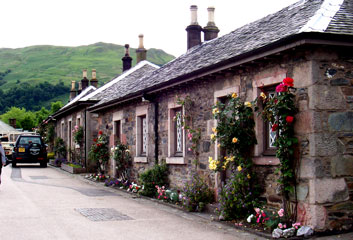 The quaint village of Luss is also on the banks of Loch Lomond. We understand that a popular Scottish TV drama is filmed here.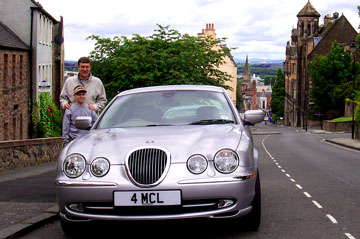 Andrew stands with Alistair, our host and tour guide. Thanks, Alistair, for the wonderful time, and for our first rides in a Jaguar! You can see more photos of and by Alistair on our NingXia and Shapotou pages.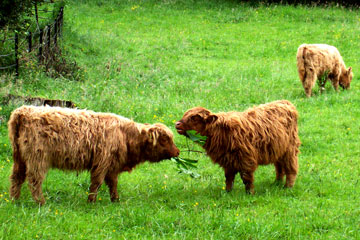 Vivian was particularly taken with Scotland's hairy cows, so this photo just had to be taken! (We visited a nice country park and museum near Glasgow--Pollok Country Park and the Burrel Collection.)