Important: technical problems are common--sorry!
If something seems out of date, try adding ".cn" to that page's address,
e.g., www.krigline.com.cn/index.htm (see further explanation below or here)
Michael & Vivian Krigline, along with son Andrew (visiting for Christmas 2011, from his university in Ohio); beautiful Xiamen is in the background, with Xiamen University's tallest building right in the center.
Michael and Vivian became grandparents in December 2010, and again in June 2012!
(Click here for baby pictures)
See "What is new?"
on the bottom of our "current update" page
for recent changes.
Are you looking for my advanced writing textbook?
Find Vivian's photo scrapbook here:
www.scrapbookflair.com/China_Doll
Andrew Krigline's website: akrigline.com
Timely content links: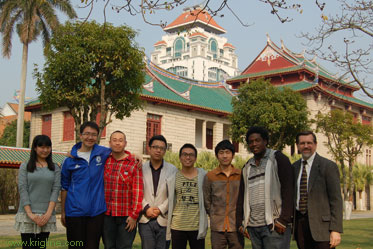 Notes:
| | |
| --- | --- |
| | Since being a web-master is a VERY part-time hobby, please be patient if links don't work or if things are out of date! |
| | Having a problem finding something? Try the search box or Site Map. We've also changed all page names to lower case letters, so try putting lower case letters in the file name if a link is broken. Sorry for the broken links! |
Search Krigline.com or the World Wide Web (results should open in a new window):
Are you looking for links related to China?

What do you like about this website?
How can we make this website better?
Tell us:

(Please let us know if you find any typos, too!)
See our Policy regarding the use of materials available at Krigline.com

Find Vivian's photo scrapbook here:
www.scrapbookflair.com/China_Doll
I don't know of any other Kriglines with a website, but we'll be glad to link any other Kriglines to this page!

Technology notes and explanation:
Microsoft stopped updating FrontPage software in 2003, and I haven't had time to "start my website over" using other software. So, I apologize if you get an incomplete page, broken link, or other problem. While I'm in China, trans-pacific Internet connections are undependable and/or blocked. In fact, my "Chinese" website is sometimes completely "gone", and updating my "American" website requires two computers and several software programs--so it is a lot of trouble to update! In China, we also experience restricted access to web-based E-mail sites (e.g., gmail and "at krigline") from time to time. Please keep this in mind if you send us E-mail. Sorry for the inconvenience. (There's more info on the "use-policy" page.) Michael
About us: This is the personal website of the Krigline family: Americans who have been "teaching and learning" in China since 2000. All photos and materials are © 2013 Michael Krigline unless otherwise noted. We maintain this site primarily for the benefit of our friends in China, and to provide our friends around the globe with a taste of China--in the hope of building greater understanding between the people of the West and the East.
这是林老师一家(美国人)的网页,他们好几年生活在中国。所有的图片和资料除特别注释外,均属林老师版权所有。我们建立这个网页的主要目的是让我们的中国学生和英语学习者受益,同时也为我们的国际朋友提供了对中国的简单介绍,最终希望东西方国家的人们能够更深的了解和理解彼此。
Regarding .CN: We have created a China-based version of the website so that the pages will load quicker for our students in China. See "use policy" for more information.